TESTIMONIALS
As with most things in life, before taking on the services of a therapist, it is always reassuring to read feedback from previous clients. The following are just some of the testimonials from carers and guardians of animals with whom I have been involved, and also people who have had a Reiki treatment from me.
HEALING
Micky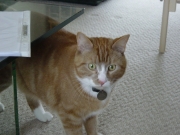 "Micky used to be a stray before coming to live with us and very
skittish, with a dislike for sudden noises and new people. He had
very erratic eating habits, tending to eat on the run with very
messy consequences. After his treatment from Jenny he slept
solidly for about four hours, which was very unusual, and he
seemed quite "chilled out" for the next 24 hours. Since having his
treatments from Jenny he is much calmer and more settled; more
confident with new people and more sociable with other cats.
"Jenny also communicated with Micky and I found this particularly helpful because after finding out that he was worried about getting lost and being stray again, we were able to create a more established routine for him, and ensure he receives plenty of one-to-one time. I think the treatment has been hugely beneficial both for Micky and ourselves, and would happily recommend healing and communication to others." Carol, Crawley
Tammy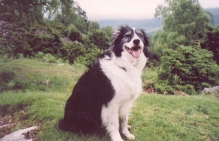 "I just wanted to thank you very much for all the help and guidance you
have given to myself and Tammy. Your communication has truly been of
great comfort to me. I know as a result of this and your subsequent
healing with Tammy that we have become even closer, and I feel now that
there is a quiet, calm and deep peacefulness between us. I would love
you to always look after my dogs for me, as you have been a truly
wonderful friend and comfort to dear Tammy."
Shelley, Devizes
Aida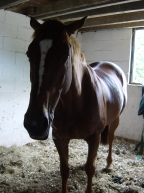 "I asked Jenny to give Aida healing firstly out of curiosity and secondly for
treatment of a serious soft tissue muscle injury. The whole session was peaceful.
I saw Aida visibly question then relax into it. Areas that Jenny identified as
possibly being problematic were consistent with Aida's history and my knowledge
of her background. Since the healing sessions, she has been performing extremely
well at home and in competition. I knew she had the potential to do so but it has
been lovely to actually see her blossom and enjoy her competition more and more,
and perform better and better. I would highly recommend Jenny's healing to other
equine carers."
Alice, Whitchurch
Bracken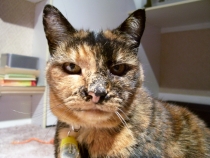 "Jenny has been working with my old cat with great results. Bracken
has a condition which often makes her sick but we have found that
regular healing sessions help to greatly reduce the frequency of
sickness and it makes her more comfortable and more alert. It is
comforting to know that while veterinary medicine can offer her very
little in the way of relief from feeling low the healing Jenny gives her
does. Bracken really enjoys her sessions with Jenny, often curling up
on her while receiving the healing.
Jenny is an excellent communicator with both humans and animals
and is very pleasant and helpful, you can really tell she cares deeply for the animals she works with."
Toni, Reading
COMMUNICATION
Sabre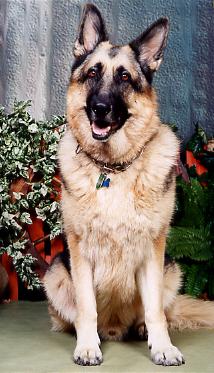 "Thank you so much for doing this reading – you have an affinity with animals
and your love for them shines out. You are pretty spot on, well done. You are
amazing and I am very grateful."
Sally, Colnbrook
Poppy (communication with her in spirit)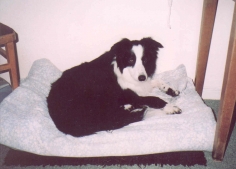 "Although it was painful for me to read to start with, I feel the communication with Poppy has helped me to feel much more at peace.
Some of the insights Jenny had through Poppy's communication were
staggeringly accurate – one instance mentions Poppy playing
with/biting a duvet – this is a game she loved to do, whereby I would
pretend there was something under the duvet and she would attack it.
You couldn't possibly have known this. Also, you mentioned that you
felt a great physical pain in your own sinuses when you started
communicating with Poppy; this is where Poppy had her disease."
Shelley, Devizes
Jessie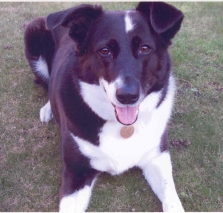 "Back in December 2008 my parents had to move into a retirement
home which unfortunately would not allow pets so I adopted my
mum's dog, Jessie, a gorgeous 8 year old border collie cross. The
move had certainly unsettled Jessie as she was far more subdued
than normal and then suddenly at the end of February my mum
became ill and died, which again had an emotional effect on Jessie.
I contacted Jenny as I had a number of specific questions I wanted
to ask Jessie and most importantly I wanted to reassure her following
the recent events. I am so glad that I contacted Jenny as Jessie was
able to voice her worries and fears and to tell someone how upset she
had been. Following Jenny's communication, I've been able to fully
understand how Jessie has been feeling and to make little adjustments
at home and generally so that she feels more secure and settled. It's going to take time but Jessie is nearly
back to her old self, I think she feels happier now that she's been able to "speak" to someone. I would have
no hesitation in recommending Jenny's services to anyone who wants to have a better understanding of their pets and their needs." Lisa, Yateley
REIKI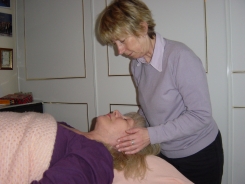 "I have enjoyed several wonderfully relaxing Reiki treatments from
Jenny recently. Each one was different from the last and Jenny
always identified what I needed with absolute accuracy and has
radically improved my life – emotionally and physically – over the
past few months.
When I last saw Jenny I had been suffering with bad pains in my
back and arms and was surprised to find that these had eased
considerably immediately after my treatment. I was even more
delighted to discover that after a great nights sleep – another benefit
of the treatment I have found – I was completely free from pain.
What a relief!
Apart from the healing aspect, I really enjoy the feeling of calm and deep relaxation throughout the treatment. It is a wonderfully therapeutic experience. I am so pleased to have found Jenny and can't recommend her highly enough."
Lesley, Isleworth.
"Having developed an injury in my right shoulder which generated pain all down my arm and into my wrist, I requested some help with Reiki. Having had only two sessions, my shoulder, arm and wrist gradually eased and I am now fully recovered. It was not an immediate cure, but with time and patience I believe it helped a great deal. Distant healing is also very effective as a family friend was extremely ill in hospital and with the help of some distant healing has now made a full recovery and is back with his family.
"Finally my husband has just undergone major surgery and was given distant healing during his stay in hospital and is now home and making extremely good progress."
Vicki, Buckinghamshire
VISIT MY NEW WEBSITE www.jensanimaltherapy.com